LTP Integration is delighted to be playing a pivotal role in the multi-million-pound Copr Bay Phase One development in Swansea, having been appointed to produce a lighting design for its landmark bridge.
The 150 metric tonne Copr Bay Bridge, which spans almost 50 metres (160ft) over the busy Oystermouth Road on the seafront, provides a distinctive new link between the city centre, marina and coastline.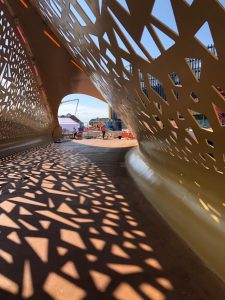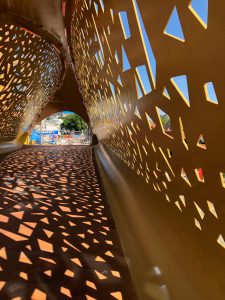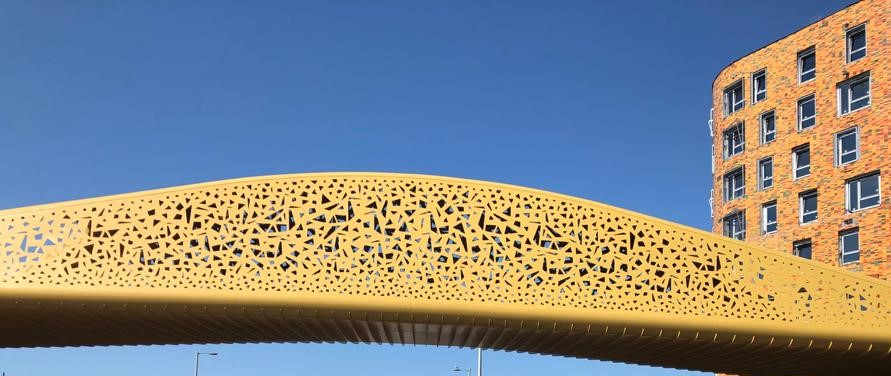 Designed by local artist Marc Rees in collaboration with architects ACME, the pedestrian and cycle bridge is set to open to the public later this year alongside Swansea Arena, which sits at the heart of this regeneration scheme.
Featuring 2,756 laser-cut shapes, council leader Rob Stewart believes the bridge will become 'a landmark for the city and an emblem nationally and internationally of a city that is going places'.
---
"The Bridge colour and lighting are designed to move in synchronisation with the illuminating façade of the Arena to create a district that pulsates with life at day and night."

— Friedrich Ludewig, Director at ACME
---
Working once again with SH Structures, who were responsible for the building and installation of the bridge, LTP Integration will now work to enhance this striking and unique piece of architecture, which will provide a safe and impressive crossing for visitors for decades to come.
We'll be providing further updates and imagery as the project progresses.
Find out more about our solutions for bridges and walkways here.
You can also contact us today on +44 (0)1554 740500 or info@ltpintegration.com to discuss your project.