LTP Integration has recently completed the stunning illumination of the new A52 Wyvern Footbridge in Derby.
The replacement bridge forms a key part of the A52 Wyvern Transport Improvement Scheme – a large infrastructure project for the East Midlands city.
The Derby City Council project began in early 2017, with a series of transport network management improvements implemented on the A52 Brian Clough Way, as well as the area around the Wyvern Retail Park and Pride Park (an 80 hectare business park that is home to Derby Arena and Derby County Football Club).
The scheme aims to 'reduce congestion, improve journey times and reliability, provide safer travel opportunities, increase sustainable travel and also support wider economic growth'.
The footbridge – measuring over 80m in length and four and a half metres in width – has created an important link between Meadow Lane and commercial areas at Wyvern.
It now provides easy access for pedestrians and cyclists, plus wheelchair, mobility and pushchair users with its ramped approaches.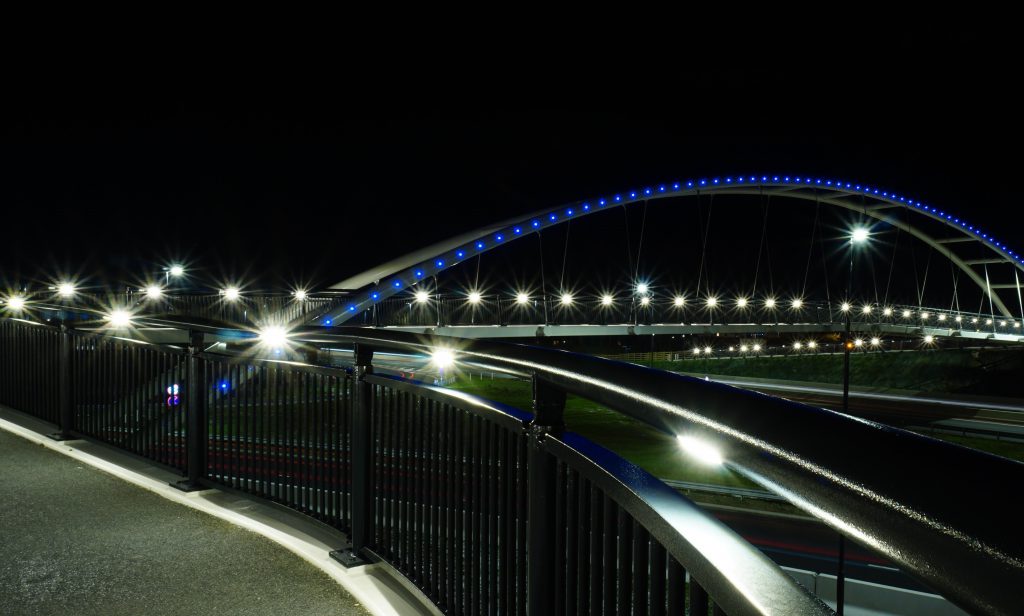 LTP Integration was once again engaged by SH Structures to deliver this impressive installation.
The suspension bridge's two arches are illuminated with a continuous RGBW node arrangement to both sides. For this element, LTP Integration specified an Anolis Lighting UK product, due to the need for the string to span 100m in one continuous run fed from one side of the bridge.
This beautification lighting is remotely controlled via a Pharos system using a 4G connection.
For the bridge and approach ramps' task lighting, LTP Integration utilised a new handrail lighting product called Pictor 8 – a system developed by our partners i-Vision (UK) Ltd.
The new Pictor 8 system was installed in the 100mm diameter continuous top rail, that extends across both sides of the bridge and approach ramps, and can also be installed in all DDA compliant handrails down to 42mm.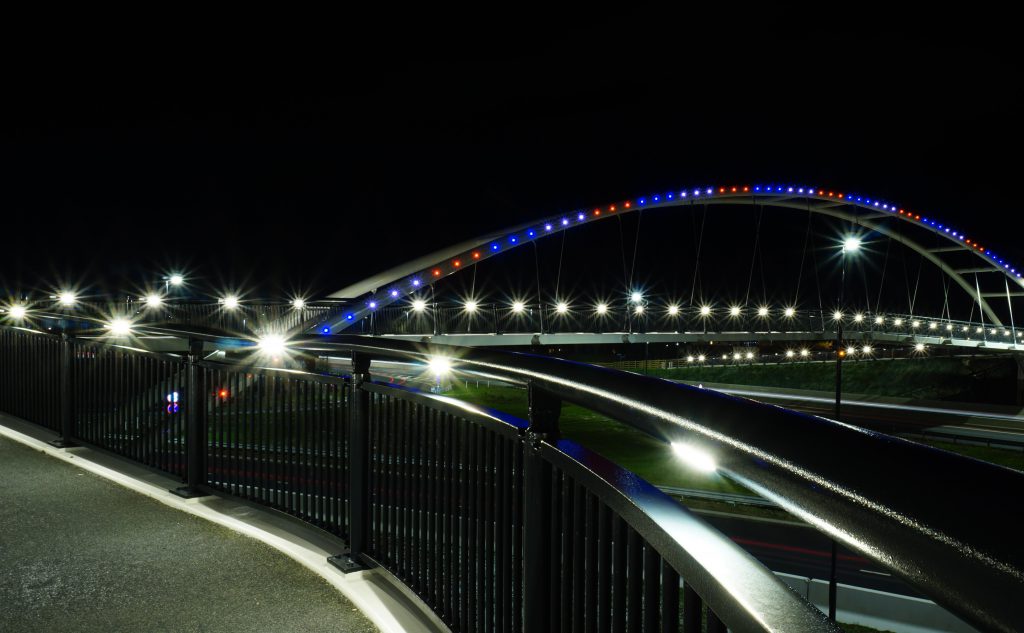 Alternatively, contact us today on +44 (0)1554 740500 or info@ltpintegration.com to discuss a project.